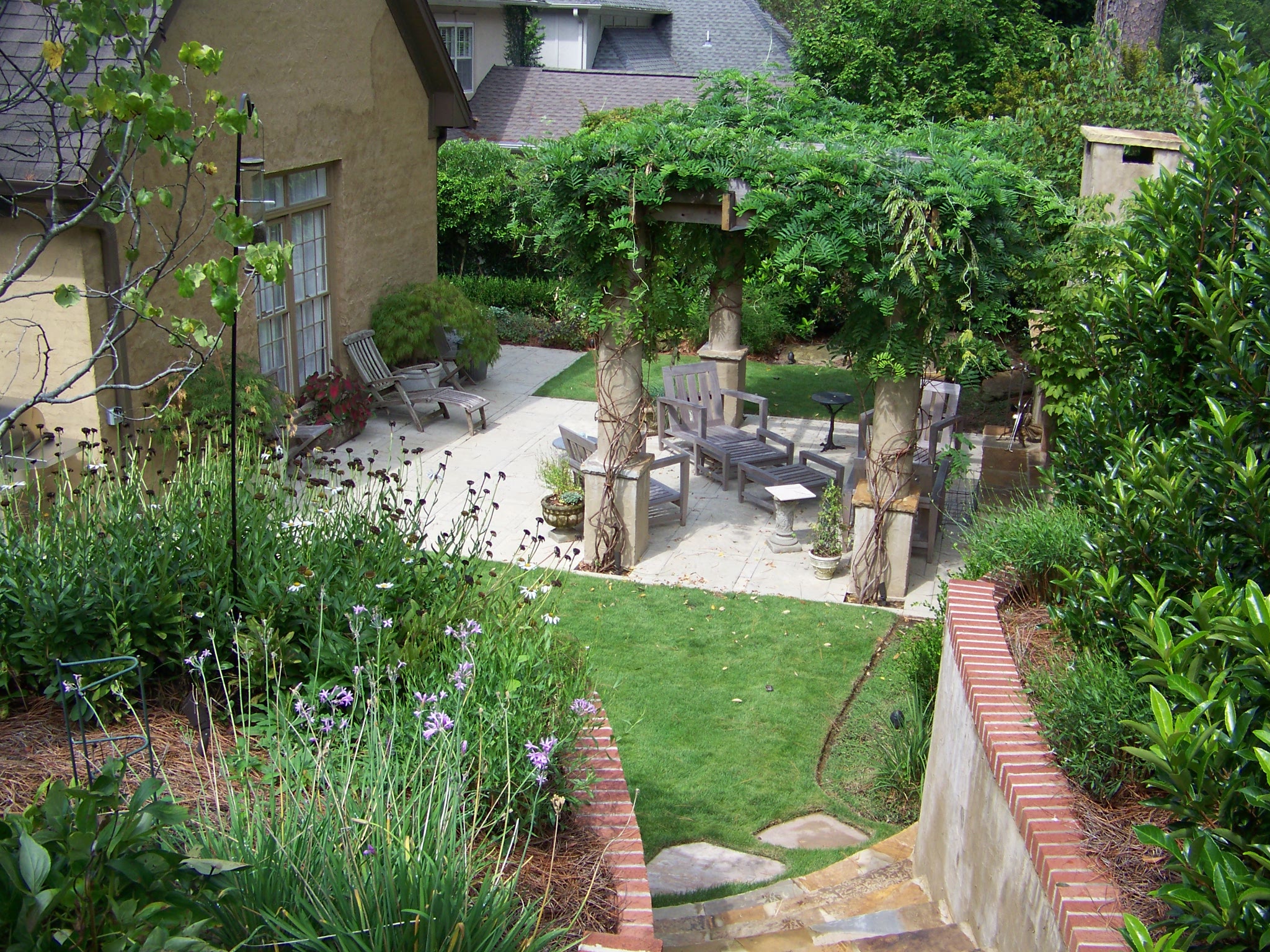 Location
Birmingham, Alabama
Awards
American Society of Landscape Architects Alabama 2013 Merit Award
Massey Residence
The Massey Residence redesign transformed the home's entire backyard. The client wanted her backyard to be an extension of her home's formal, beautifully designed interiors, which was especially important because every back-facing room of the home overlooked the backyard. The client also wanted the space to be used year-round for dining, outdoor relaxation and light entertaining.
The first major challenges of the project were quite clear: a 13-food grade change on either side of the yard and very close neighbors. With no wiggle room for mistakes, Greenview Studio began with a topographical survey. The walls and fences bounding the yard on all three sides created the feeling of a private, if snug, patio surrounded by illogical lawns and gardens. The space was in stark contrast to the client's personality and lifestyle, which is anything but restrictive; rather, it's wonderfully expansive.
The client had lived in the home long enough to understand with some precision the sort of changes on deck. First, the feeling of claustrophobia needed to be removed, but the feeling of privacy needed to stay. Next, the existing retaining walls needed to be retooled because they split the backyard into a hodgepodge of small, confined and unusable spaces. Lastly, the backyard needed to be established as a welcoming Outdoor Living Room by creating visual and physical points of reference.
With a fair share of toil and trouble, Greenview Studio expanded the existing retaining wall so that it swung farther away from the house, making more room for the other desired elements. By introducing steps and a series of tiered planter walls, we dealt with the steep incline: the upper and lower levels of the garden were transformed into a harmonious and viable flow. We added a massive stone fireplace, strategically placed as the centerpiece of the Outdoor Living Room because it created a visual feature and focal point that can be seen from several interior rooms of the house. The fireplace has made the Outdoor Living Room viable in colder climes and the hearth also features an adjacent arbor with fans. For shade and comfort on hot summer days, white dwarf wisteria was added. The Outdoor Living Room also includes a dining area designed and placed strategically to allow easy access to French doors and the indoor kitchen. A small, simple stone fountain further integrates the expanse of the remaining retaining wall, while providing just enough tranquil sound to be enjoyed from the rear-facing, ground level Master Bedroom.
By working hard together with determination, the successful team's creative vision became an all-out stunning reality.